Dramatized stories with music
Of the hundred or so radio programs we made with Mamma Mu and Crow, we've chosen eight production series, each consisting of about six programs, with the accompanying music. They can also be streamed via Storytel and Spotify (see more under the Book and music publications tab).

Mamma Mu rides a bike, Mamma Mu builds, Mamma Mu goes fishing, Mamma Mu celebrates Christmas, Mamma Mu dives, Crow Radio, Mamma Mu goes into town och Mamma Mu in Stockholm.
Hello Mamma Mu, is that you?
A series of seven records where I narrate the picture books about Mamma Mu and Crow, each with three stories and three songs.


Mamma Mu cleans, Mamma Mu rides a bob, Mamma Mu goes down a slide, Mamma Mu gets a wound, Mamma Mu swings, Mamma Mu builds a tree house, Mamma Mu and Crows Christmas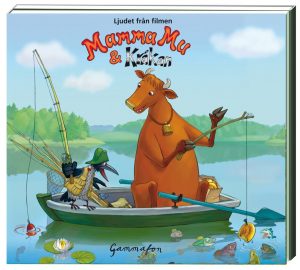 Soundtrack from the Mamma Mu and Crow film
The original soundtrack from the film is based on our books and music. The voices of Mamma Mu and Crow are done by Rachel Molin and Johan Ulvesson. The music has been arranged by Niklas Fransson and Ulf Turesson. I am the narrator.